May 16th, 2016
Some Taxi operators in Jamaica have been restless since the announcement of the $7 increase in special consumption tax (SCT) on gasoline.  The demands have come that taxi operates will need a fare increase. However is this request for fare increase fair? The table below shows the ex-refinery prices for May 13, 2106 vs. May 14. 2016.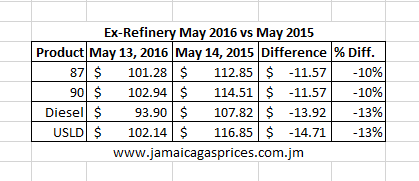 Note that 87 and 90 Gasoline are both $11.57 less now than the same time 2015. Diesel and USLD are $13.92 and $14.71 lower respectively.  It is fair that there is the fear that if world oil prices go up then the situation could change and become less favourable.
Based on the table above there is no need for a taxi-fare increase. They should look at the benefits they were afforded by lower world oil prices before the SCT increase. Did the lower their fares as a result?
Commuters should have demanded lower fares
If you use the table below the passengers of the taxi operators in Jamaica should have been protesting for lower fares. Before the increase in SCT, the ex-refinery prices of gasoline 87 and 90 were 17% lower than in 2015.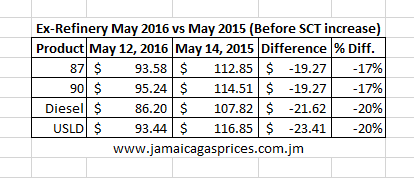 The public can be the judge, but from what can be seen a fair judgment is that the need for taxi-fare increases at this time is alarmist and not fact-based.
What the taxi-operators should do is support sites like Jamaica Gas Prices and consistently highlight service stations selling quality gas and lower prices.