Tuesday, November 24th, 2015
As you drive around Kingston, Jamaica,  motorists will face many dangers. There are undisciplined motorists, potholes and craters.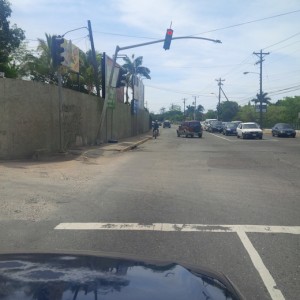 However, recently I noticed this leaning traffic signal pole at the intersection of Waterloo Road and South Avenue.  There is also a wire under the arm near the traffic signals, either being stretched or in support of the leaning pole. The wire itself poses a danger should it break and hit some unsuspecting motorist or pedestrian. I understand that this stoplight has been leaning this way every since an accident in September 2015. When will the authorities fix this issue?